Summertime Palm Springs CA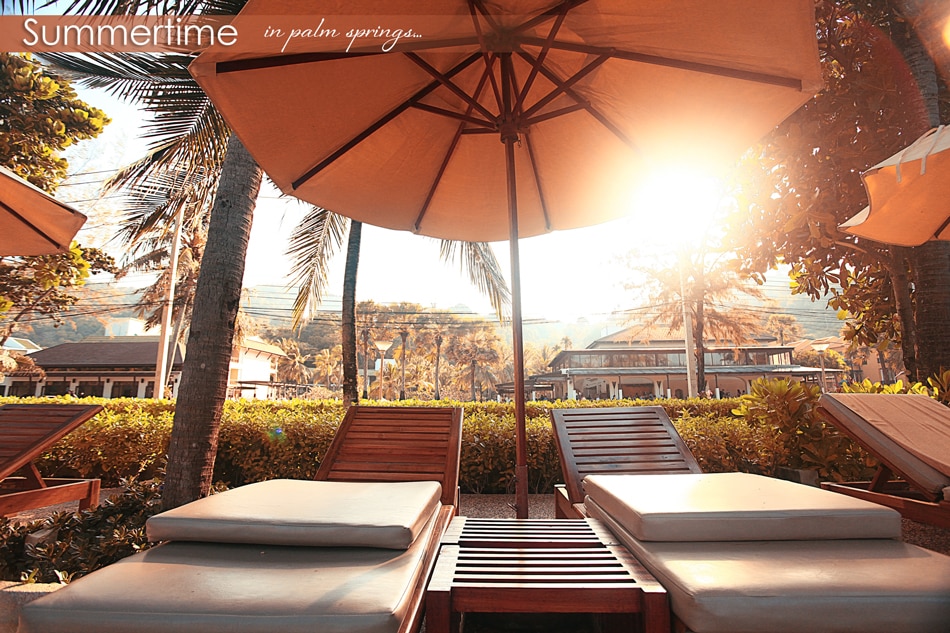 Summertime is a time to get outdoors and enjoy all that it has to offer. Whether you want to play or stay, eat or drink, Palm Springs CA is at the center of it all. So, if you are one who fancies fine dinning, golf, or late night excursions, this is the place for you. From hot sizzling summer film series and music festivals, to one-day dance competitions, Palm Springs has many events. What's more, is if you venture to this side of town you have to visit one of their signature events.
Summertime in Palm Springs is a ­perfect way to experience everything this city has to offer. If you love shopping, you are in LUCK! Discover your favorite brands at the Cabazon Outlets. Located conveniently between Palm Springs and Los Angeles. This is the place that will allow you to follow your fashion sense for a fraction of the price! The Cabazon Outlets is your style and savings destination. The relaxed open-air environment Cabazon offers lets you take in the outdoors while you browse all of your favorite brands. So, whether you are looking for sportswear, or new housewares, Cabazon is a name that is synonymous with quality brands.
Palm Springs, CA
Where there is Always Something to DO
For those who have not had the pleasure of getting out of the house yet this summer, let us help you. From events to parties, to film festivals and music, the July 2016 event calendar is jam packed with summertime fun. For the comedy lovers, the Joshua Tree Comedy Festival is just around the corner. The Comedy Festival, which is held at the Hi-Desert Cultural Center, starts on July 8th and ends on July 10th.
For the more serious type, a Taste of Summer in Rancho Mirage, might be just what you are looking for. Taste of Summer Rancho Mirage officially kicks off on July 7th with a launch party located at Pirch. This event is a perfect way to spend your summer, with drinks and sweets, and wonderful eats, the Taste of Summer Rancho Mirage has cooked up cool summer specials that will tantalize the senses.
Like the sport of dance? The Desert Classic Dance Sport Championships is your ticket to an incredible show. From Ballroom, Latin, Argentine Tango, American Rhythm, and more, the Desert Classic Dance Sport Championships will have you wanting the hit the dance floor. So, whether you want to learn some moves from world-class dancers, or simply want to be social, the Desert Classic Dance Sport Championships located at the JW Marriott Desert Springs Resort and Spa, begins on July 7th, and runs through July 10th.
IN PALM SPRINGS, THERE IS ALWAYS SOMETHING TO DO…
Welcome to Palm Springs, CA
Welcome to Palm Springs, CA. Palm Springs is a place where people can go to escape the stress of their day-to-day lives, or set out on a much-needed adventure. Palm Springs has some of the finest golf courses, resorts, hotels, shopping, and hiking spots southern California has to offer. It is why vacationers from around the globe choose Palm Springs, as their ideal place to vacation.
Welcome to TOWN
Town Real Estate is an independent boutique brokerage specializing in Palm Springs Real Estate, Idyllwild Real Estate and neighboring resort communities in the Coachella Valley.
At Town Real Estate, the soul of our philosophy is to make every client feel like they are important, we listen carefully to each client to ensure they feel listened to and heard. Our Mission is to grow one-to-one relationships with every client we meet. WE always take the time our clients deserve to provide them with the right real estate solutions. We are real people who do business with both our minds and our hearts.
Our promise to you, to provide you with real estate solutions that fit your unique needs and deliver a level of service that makes you feel important because the truth is… you are!
We welcome you to…
Discover, what it is like to have a real estate agent that focuses solely on YOU. Let Town Real Estate be the solution you look to for all of your real estate needs.
Town Real Estate, helping you discover the real estate solution that is right for YOU!
We are ready to comfortably guide you through a fully informed process of buying or selling your home.
Town Real Estate, we make Real Estate easy. Call our Palm Springs Real Estate office TODAY (760) 250-1977.