El Nino
A Guide to Getting your Home Storm Ready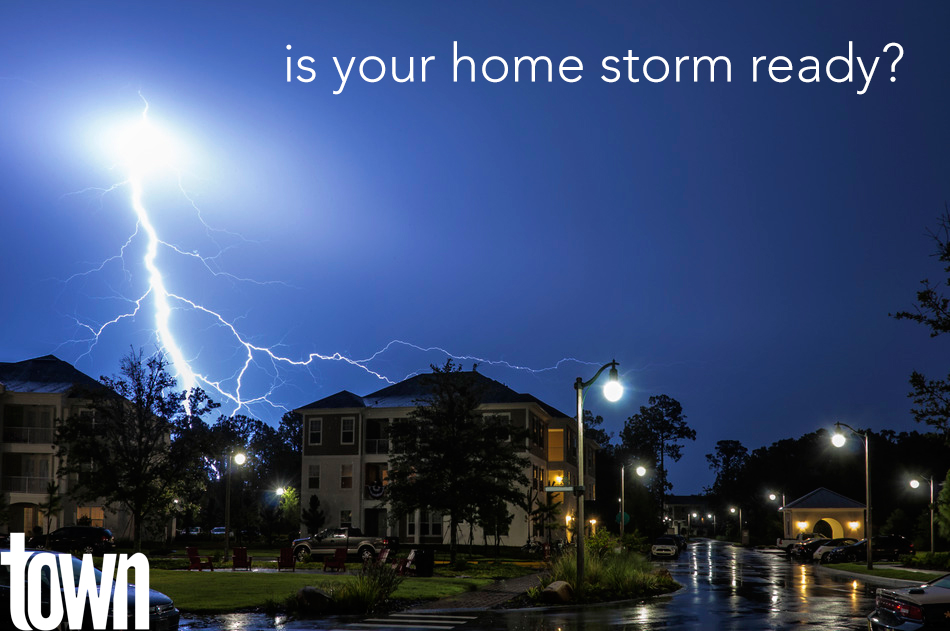 El Nino driven storms soaked many cities in Southern California last week. It is no longer a probability being discussed, it is real and it is here. It is an existence that has many people wondering just what to do to prepare for what is still to come. While there is no way to predict the impacts the up and coming El Nino-driven storms will have on Southern California cities… the likelihood of more storms hitting is almost certain. El Nino is a reality we all must prepare for!
Cities like Palm Springs, where it rarely rains face an increased chance of flooding and that means fast-moving floodwaters for those at the foot of the San Jacinto Mountains. The truth is, Palm Springs as well as many other Southern California cities have been experiencing one of the most epic droughts in our history and while the thought of rain is great to many of us who live in the drought stricken cities there is much to consider.
El Nino-driven Storms
El Nino-driven storms will present cumulative water amounts to areas like Palm Springs CA. The cumulative impact of the storms still to come is not something that can be predicted since El Nino is not the sole driver of atmosphere at anytime. However, what can be prophesied is that a city like Palm Springs is not use to the type of weather that El Nino will almost certainly bring.
Though a barrage of storms is not necessarily guaranteed for the 2016 El Nino, what you as a homeowner can guarantee is how prepared or unprepared you are. If you are a homeowner you must prepare now during this break between storms… because the difference between being prepared and unprepared could be the difference of having a home that is damaged by storm water and one that is…
Take the time during our break between El Nino-driven storms to get your home as storm ready as you possibly can!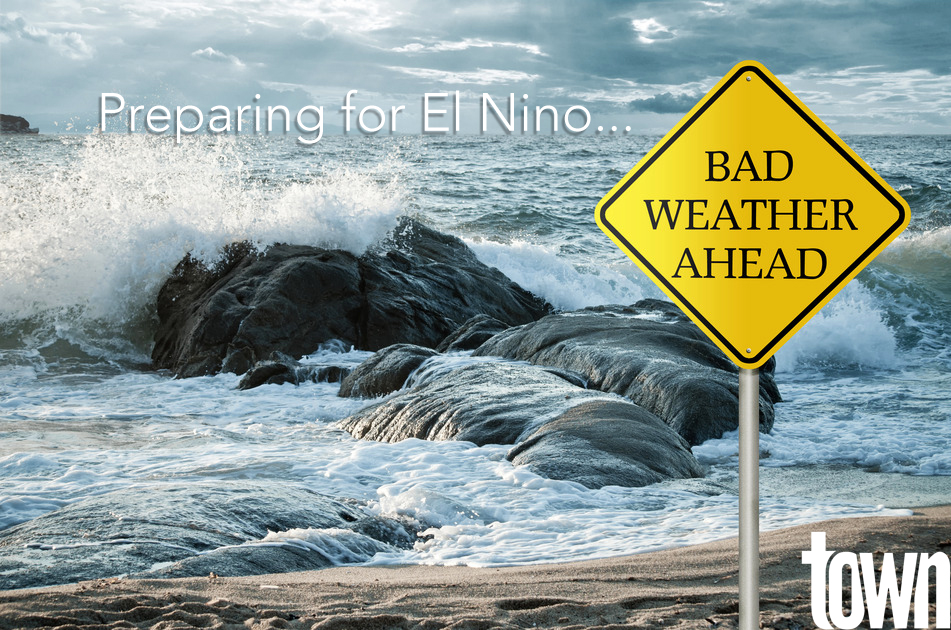 What is El Nino?
El Nino, just what is El Nino? The definition that has been thrown around is not easily understood so to make things simple here it is in a nutshell. El Nino is a product of warming sea surface temperatures over a prolonged period of time. This ultimately produces more convection and thunderstorms. Convection put simply is the transfer of heat from one place to another. The ocean and the atmosphere are in its purest form collaborating together thus resulting in changes to the atmosphere and a shift in the Jetstream.
A shift in the Jetstream like the one we saw last week is end product of El Nino in that due to where it was placed Southern California cities like San Diego, Los Angeles and Palm Springs all saw more rain then they have in years. Take a look for yourself at the position of the Jetstream before during and after last week's storms to get the just of what we are saying.
The Impact
The important thing is not to get stuck on the definition of El Nino. We can leave that for the meteorologists, what is important is ensuring you have done all you can do to prepare for the up and coming El Nino-driven storms. No definition is going to help you do what needs to be done to ensure your home is storm ready.
Preparing for El Nino
Is your Home Storm Ready?
Palm Springs has drought stricken land and thus will struggle to absorb sustained back-to-back rainfall from El Nino-driven storms. El Nino grows louder by the day, a more realistic with each new storm. The reality is, with persistent storms in places like Palm Springs known for being prone to flooding you must do everything you can to prepare for El Nino. Whether or not you live in a flood zone it is extremely important you ensure your home is storm ready. It goes without saying that if you do live in a flood zone area chances are you already have flood insurance.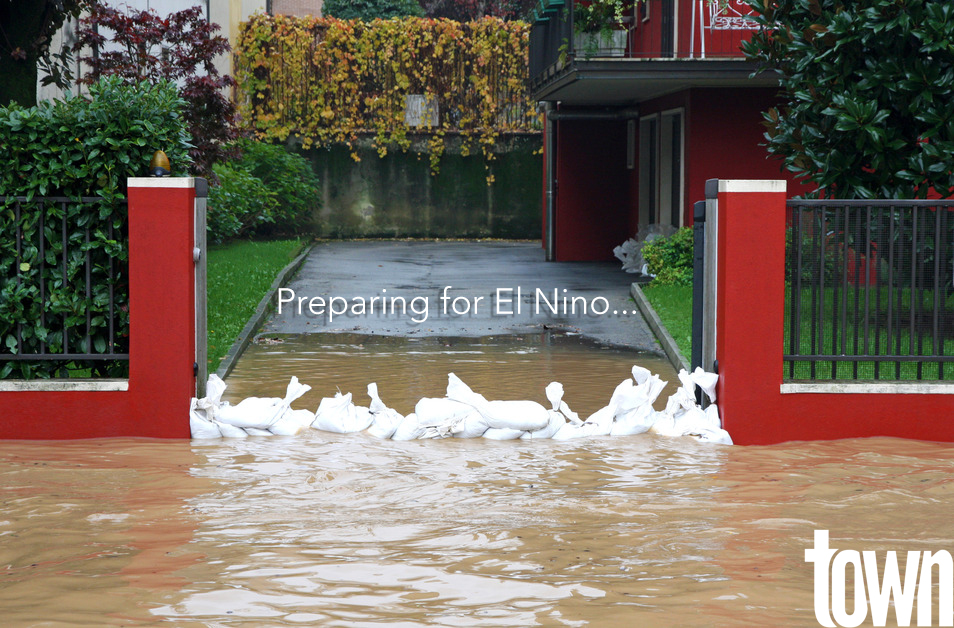 A Guide to Getting your Home Storm Ready
Palm Springs in all its beauty is surrounded by the mountains and steep hills, which will almost inevitably result in rapid runoff produced by persistent rainfall. What this means to you as a homeowner is the preparation is key to preserving your home and your happiness. With this in mind Town Real Estate offers you some tips on "Getting your Home Storm Ready."
Exterior of the Home: Managing Storm Water Effectively on your Property
Overland Flow Flooding: This type of flooding typically occurs from persistent and/or heavy rainfall

The water is excess rainfall runoff from homes, driveways and other surfaces near or around the home itself
The excess water runs across the land after it rains

Either before it enters a river, creek or stream, after a creek or stream breaks its banks, or after rising to the surface naturally

To protect your property make sure you are aware of areas that could cause water to pool, once this is known go to the next step

Sandbags: The fastest way to redirect water and provide a great defense against water that is threatening to get inside and thus damage your home

Use sandbags wherever water can end up collecting/pooling for entry points of your home
Follow the natural flow path through your property to help you determine areas that could cause water to pool

(see adding mulch bullet point)

Add sandbags to the entry areas of your home

(i.e. front door, back door, garage door and so on)
Each layer of sandbags represents 3-4 inches of added flood protection
Your Home's Perimeter: Check the drywall and exterior of your home for any holes, if any are found fix them immediately
Roof: If safe check it for leaks or call a professional to inspect your roof

NOW is the time to have your roof inspected
If any holes, leaks, or missing tiles/shingles are discovered it is imperative you fix them immediately
A leaky roof will literally ruin your home and can even ruin the belongings in your home
Gutters & Downspouts: Downspouts and gutter systems also need to be thoroughly checked

They can get clogged with debris

Like leaves or dirt will prevent water from running through the system the way it is supposed to

They are your Roof's 1st Line of Storm Defense
They are designed to channel rain off the roof and downspouts help guide the water in the right direction
By installing removable downspout adapters you can actually help guide the water coming off your roof away from your home's foundation
To avoid any gutter issues
Make sure you have them cleaned and look into installing removable downspout adapters
And flexible drain coils to the gutter system's downspouts

Prepare your Front and Back Yard: Adding mulch to your front and back yard can help absorb extra water

Place at least 3-4 inches of organic mulch in beds and areas where water will drain or collect
Trim your trees, bushes and other landscape to reduce debris and the impact heavy rain or strong winds can have on breaking branches
Home Insurance: If there was ever a time to buy Flood Insurance, this is the time
If you do not already have flood insurance now it the time to think about getting it

Even for areas of low to moderate risk, buying flood insurance can help reduce the damaging impact
There is a 30-day waiting period before your new policy can take effect so get it now if you do not want to take any risks
If you want to know more about your flood risk you may want to visit the government's flood smart website
Emergency Money: If a power outage occurs having an ATM card or a credit card will not be sufficient
Take out some emergency money so that you have cash on hand!
Supplies: Batteries, food, money, water, umbrellas, flashlights, candles, matches and the rest
Be Prepared!

Have a sufficient amount of the following items on hand:

Bottled Water, one gallon per person per day and don't forget your cats and dogs they need water too
Protein-rich, non perishable foods
A flashlight, candles, matches, lighters and/or glow sticks
External charges that are fully charged or solar powered

(but remember there may not be sufficient sunlight so prepare)

A battery operated radio.
All necessary medications that anyone one in your family needs to take

don't forget dogs, cats and other animals too

Extra clothes and shoes
Toilet paper, napkins and paper towels
Vitamins
Food, supplies and medications for pets
Supplies like diapers, clothes and food for babies
Be Aware, Stay Safe and Keep yourself Up-to-Date on all Weather related events at all times…
Palm Springs REALTORS
Town Real Estate is a boutique real estate firm specializing in Palm Springs Real Estate and neighboring resort communities in the Coachella Valley. At Town Real Estate, we seek to hire only the highest quality real estate agents in the industry. We look for a proven track record of success and a work ethic focused on caring for the client's needs. Give any of our experienced real estate agents a call or email us today to set an appointment. We want to help you meet your real estate goals and will ensure we listen to your unique needs to better serve YOU! Let us help you today!
Looking for a Home in Palm Springs?
Contact Us!