Outdoor Lighting
Highlighting the Best Features of your Home
A Guide to Outdoor Lighting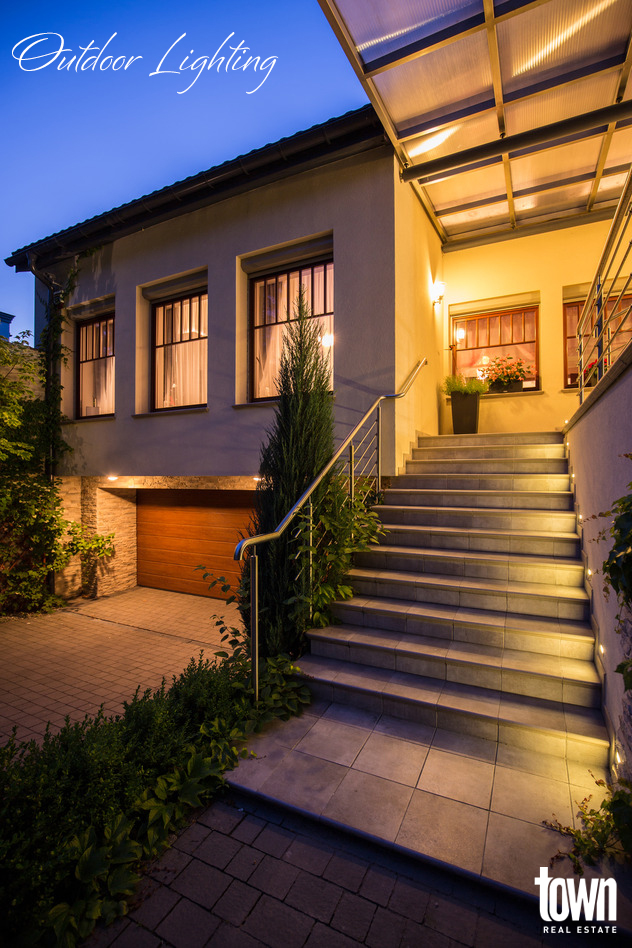 Outdoor lighting makes your outdoor spaces around your home become a part of your living space. Outdoor lighting can be used to highlight specific textures of your homes exterior and draw out the beauty of your landscape. It is absolutely incredible what outdoor lighting can do for your property. Whether you are looking to feature elements of your home's exterior like palm trees, walkways, decks, fountains or gardens; outdoor lighting when done properly not only enhances a home's exterior it can also save you money.
By adding outdoor lighting the value of your property increases, and at the same time adds the protection you need by lighting up a pathway to your door for visitors. A well lit home is important for safety, security, function, and aesthetic reasons… it extends the time you have to enjoy the outdoors and can be either subtle or dramatic depending on your taste.
Outdoor Lighting is a cost effective way to raise the curb appeal of your home…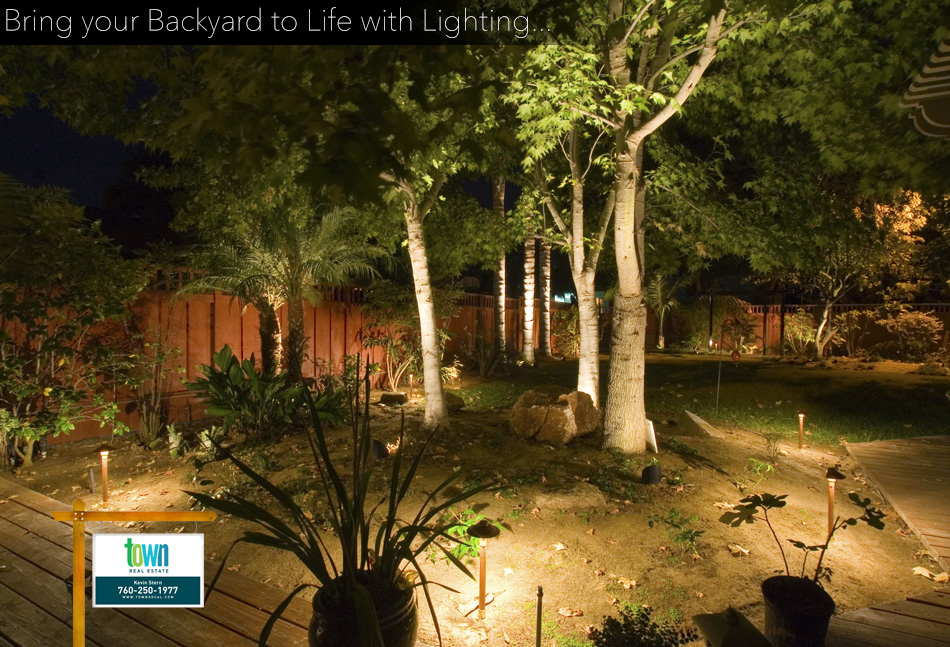 Lighting
Enhancing Moods and Architectural Details
Lighting is an essential part of our lives. Whether it is natural or designed it brings out the architectural details of your homes interior or exterior environment. Lighting can be used to enhance and enrich our lives. Lighting can help you make the transition from day to night smooth helping you feel more secure as the sun goes down.
No matter what mood you're in, lighting can literally transform you and move you in ways you never expected. Whether you are illuminating a large space, creating or enhancing a particular mood or pulling out the detailed textures of your homes exterior surfaces lighting will help you get there.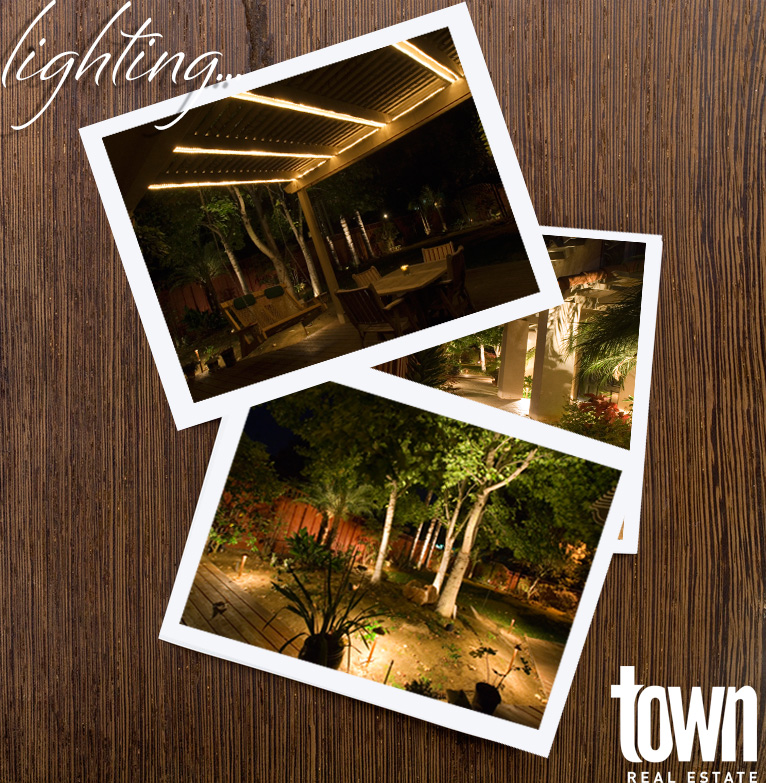 Highlighting the Best Features of your Home
A Guide to Outdoor Lighting
Palm Springs real estate is unique in that its surroundings such as the San Jacinto Mountains and abundance of palm trees adds immediate details to a homes surroundings. While you cannot use lighting to fire up the mountainsides in Palm Springs you can use them to highlight the intricate details of your palm trees, water feature or any other special features your home has.
The best and most creative way to create a great aesthetic vision on your property is to use landscape lighting outside your home. Landscape lighting (AKA outdoor lighting) provides a unique way to decorate your front yard and backyard areas, while adding an effective safety measure that can keep intruders away from your house and light a pathway to your front door when someone visits you… however choosing the right type of landscape lighting system can often times become overwhelming when you consider just how many options there are.
With this in mind we offer you some tips on building your money saving low voltage lighting system, and we even threw in a few lighting techniques to help you get started…
Outdoor Lighting System: Low Voltage (Four Main Components)
Low Voltage Transformer: this is your power supply for your landscape lighting system. In a nutshell it takes a home's 120-volt system down to 12-volts to power all of the lighting fixtures.

Important to note, you must consider the size of the transformer you need by taking into consideration the amount of fixtures you have in watts as well as the distance from the transformer itself
As an example: if you were planning to use eight 20 watt spotlights and five 10 watt pathways you would have a sum total of 210 watts. In this type of set up a 300 watt transformer would be sufficient
For longer runs or heavily loaded wire runs you must do a second calculation called a "voltage drop calculation"

The total length of wire run x Distance to Point of 1st Connection = Voltage Drop
The important part to make note of is depending on your calculation you may need to use a multi-tap transformer to ensure you never overload your system

Landscape Lighting Fixtures: this is what will produce your light and each fixture is powered via your transformer

Voltage to the fixture is critical as you can damage your transformer if you do not design and install your system properly

Landscape Lighting Wire: this is the wire that will connect to the transformer and your lighting fixtures will be placed on a run using a connector. Selecting the proper wire size is extremely important

Connectors: wire connections can be made in a variety of ways using various connector types
Summary of the Next Steps:
Sketch out your outdoor lighting plan as accurately as possible (used to estimate the distance of your wire runs)
Set a location for your transformer

usually next to you home in a hidden location but make sure you place it as close as you can to your fixtures

Determine your wire runs, making sure you do not put too many fixtures on one wire
Outdoor Lighting Techniques:
Accent Lighting & Spotlights:

Accent lighting or spot lighting technique can be used to draw attention to specific features like a palm tree or objects like a rock in your front yard or backyard
Draw out architectural features, water features, shrubs, or palm trees
Make sure the spotlight to point the spot onto your feature by grazing the entire surface with the same amount of light

Moon Lighting:

Mimic the soft natural effect of moonlight with this technique
For this technique to be successful you would install multiple low-voltage lighting fixtures

high up in your trees and point the light down through your branches and leaves

Silhouette Lighting:

Also known as backlighting, the light source is behind the object in front of a wall
Place a spotlight behind the feature pointed towards an adjacent wall

Pathway Lighting:

This is the technique you use to add a level of safety on your property
Use it to create a path of lighting on sidewalks, driveways, patios or garden paths
For this feature to be successful you should use the type of pathway light that has a head you can raise or lower

With the raising you cover more areas and with the lowering you add just enough light to illuminate the way

(good for areas you don't want light seeping into your home)

Washing & Grazing:

Use graze lighting to diffuse light over vertical elements such as the side of a home (columns or stone) or a garden wall

This technique is used to highlight and enhance the textures of surfaces

For this technique to be successful, you place the lighting fixture to the abutting side of your feature

And then point the light upward
This should result in a light wash over your surface

And thus you should see shadows and textures if done properly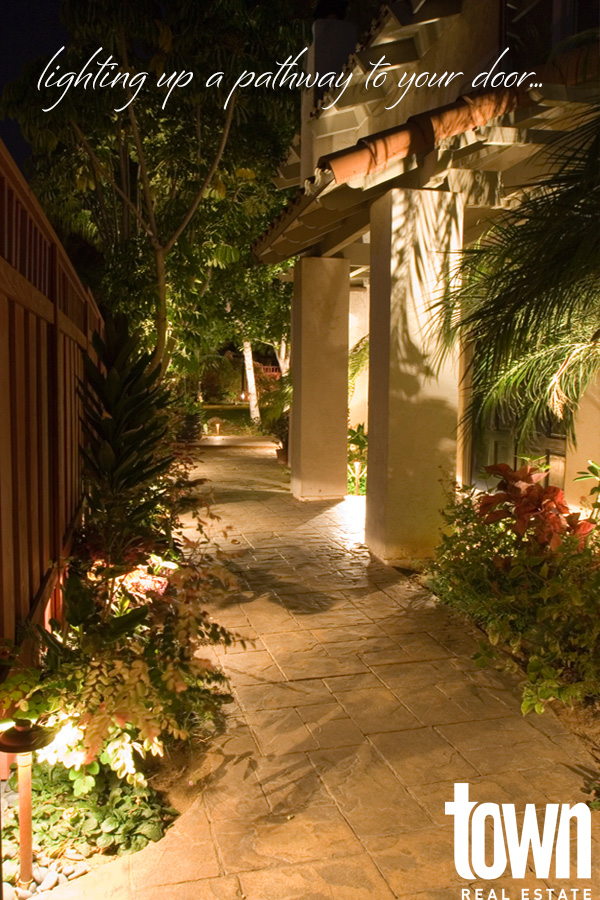 About Town Real Estate
Town Real Estate is an independent boutique brokerage specializing in Palm Springs Area Real Estate. At Town Real Estate, we seek to hire only the highest quality real estate agents in the industry. We look for a proven track record of success and a work ethic focused on caring for the client's needs. Give any of our experienced real estate agents a call or email us today to set an appointment.
Are you looking for a Palm Springs REALTOR to help you buy or sell a home? Contact us today to see how Town Real Estate can help.
At Town Real Estate, the soul of our philosophy is to make every client feel like they are important. We listen carefully to each client to ensure they feel listened to and heard. Our Mission is to grow one-to-one relationships with every client we meet. WE always take the time our clients deserve to provide them with the right real estate solutions. We are real people who do business with both our minds and our hearts.
Our promise to you, to provide you with real estate solutions that fit your unique needs. Deliver a level of service that makes you feel important because the truth is… you are!
We welcome you to…
Discover, what it is like to have a real estate agent that focuses solely on YOU. Let Town Real Estate be the solution you look to for all of your real estate needs.
Town Real Estate, helping you discover the real estate solution that is right for YOU!
Our team of is ready to guide you through the process of buying or selling your home.
Town Real Estate, we make Real Estate easy… Call our Palm Springs Real Estate office TODAY!