Outdoor Living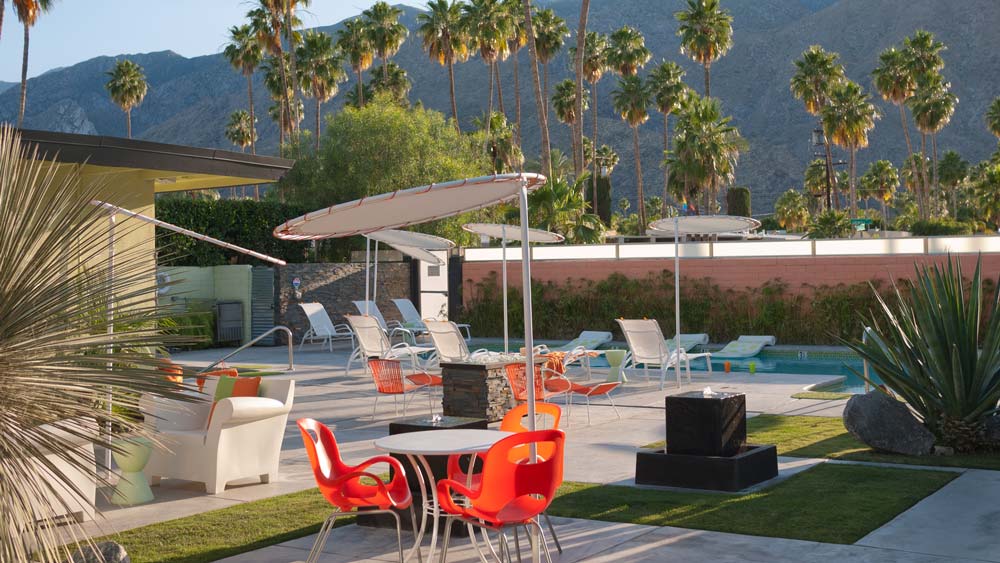 The Palm Springs real estate market is thriving, and why not, homes are still affordable, and what makes Palm Springs even more attractive, is the year-round sunshine it offers. Outdoor living is one of the many wonderful things a city like Palm Springs, CA offers. Palm Springs is a city that is in demand, not only is it considered the cool place to be, but for a home owner, a home in Palm Springs offers one the opportunity to live in an environment where the indoors and outdoors are so seamlessly blended, you feel like you are always on vacation!
Outdoor Living Spaces
An outdoor living space is a place where you can take refuge from a hard day, or simply watch the sunset as you enjoy a glass of wine or two with family or friends. Whether you like to cook, play, or meditate, owning a home in Palm Springs gives you the freedom to extend your livable space at home into the outdoors. The reason, is clear, with Palm Spring's year-round summer-like atmosphere, you should do all you can to take full advantage of what this city has to offer. With the verticality of the mountainside made by the San Jacinto Mountains, wouldn't it be nice to enjoy the view from the privacy of your own backyard.
Outdoor living spaces are an extension of your personality, from accessories to textiles, to the layout and colors, every little detail you put into your outdoor living space creates a sum total of your personal style. Your outdoor living space should give you a sense of connection, from the nature that surrounds you, to the air you breath in, make sure you take time to design a space meant for living in. With this in mind we offer you a few insightful tips:
Insightful Tips
Make sure to be Realistic: the best way to plan your outdoor living space begins here:

Plan: for real life, aim to create a space that makes your home feel bigger

Consider what you must have and designate the space accordingly

Design: consider the size of your space, and its use

Are you looking for privacy, or entertaining or both?
Do you need an outdoor kitchen, a dining space, and so on?

Budget: if your budget is limited

Make sure your design is practical,
Functional
And, include only the must-haves
Whether you are limited by your budget or not
Your outdoor living space should be a place you actually use
Design Tips for Outdoor Living Spaces
From the layout and lighting, to accessories and colors, designing an outdoor living space can be as simple or extravagant as you heart desires. To help you get started on your outdoor living space, we have listed some tips to guide you below:
Getting Started
Layout: plan your outdoor living space by considering traffic patterns, view, conversation, and symmetry
Areas: how will different areas in your outdoor living space be use?

What are the most important activities,
If it is dining then your outdoor living space should have space dedicated to dining
Planning right will help to ensure you maximize your space

Color: use color to tie your outdoor décor to your indoor color scheme

Use pillows, textiles, and furniture
To help you seamlessly blend your indoor environment with your outdoor living space

Accessories: from lighting to outdoor lanterns, and dishes to planters, look for accents in the same style and palette as your home's interior to ensure your look is cohesive
Textiles: fabrics, rugs, towels, pillows, umbrellas, poufs, and any other textiles that will help you blend your indoor décor with your outdoor décor.
Furniture: the summers get hot in Palm Springs; make sure you consider fabrics with moisture wicking technology. With the summer temperatures in Palm Springs wicker or wood furniture will be your best option, also try sticking to stain and sun resistant products.
Lighting: with outdoor spaces it is all about the ambience

Your home has a feel that is unique
Make a statement outdoor with lighting
For a touch of romance, hang twinkle lights from your trees
Or a string of lights or two from your covered porch

Shade: shade, a very important element especially in Palm Springs, use a Cantilever umbrella in your shade area

This type of umbrella can be adjusted throughout the day.
Are you looking for a New Place to Call Home?

Contact us TODAY, your Outdoor Living Experience Awaits YOU!