Home Decor
Staging Tips for Maximizing your Selling Price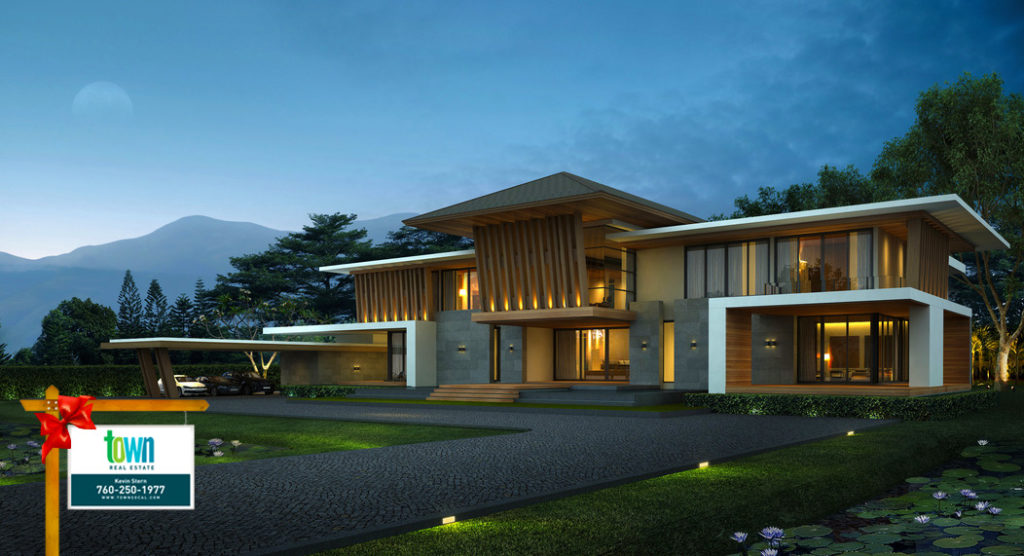 Chances are you have already decked your home and filled it with boughs of holly. The question is, did you ensure your home was buyer ready? If you are selling your home, it is important to understand the true impact home decor has on the selling price of your home. The truth is, home decor is the most important element to home staging. So, whether you followed the rules of home staging or not this holiday season remember… a home that is on the market should be buyer ready no matter what time of year.
This holiday season Town Real Estate offers each of you a gift….

We offer some last minute holiday home staging tips, advice and information on how you can make your home, buyer ready for EVERY SEASON!
The home decor of a house on the market should be about brightness and functionality stripped down to its essential quality in order to achieve simplicity. There is a saying that holds true in many areas of our lives, sometimes less IS MORE. In fact, a home that offers simplicity is a home that offers a sense of ease. An uncluttered home is a comfortable home and a comfortable home is a home that people want to buy.
While the winter is a slower season for home sales, there is one true thing about people… they buy homes 365 days a year. This fact makes it necessary for you to be prepared and stay prepared no matter what season we are in. Despite the real estate trends, it is ALWAYS a good time to sell your home.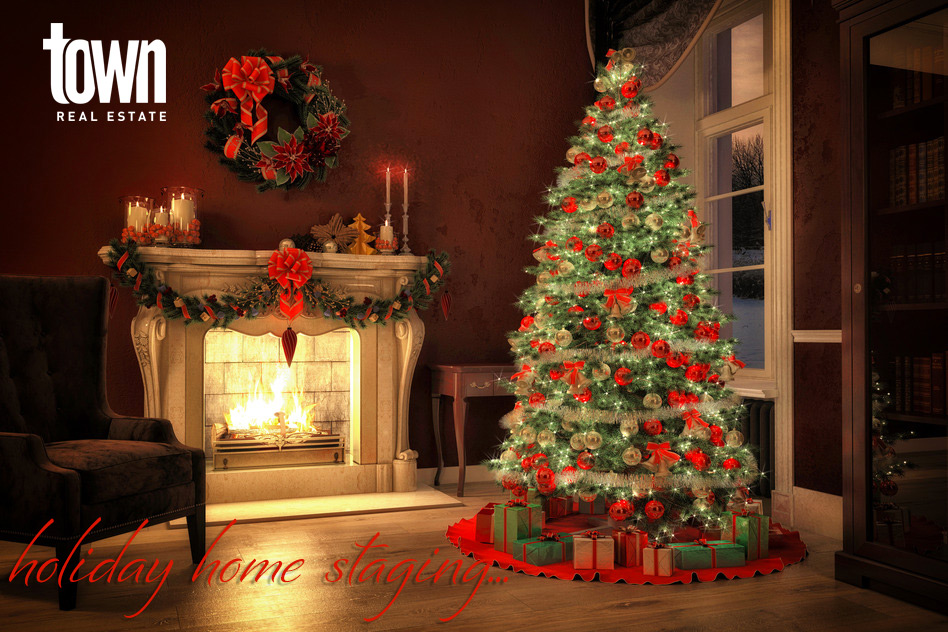 Home Staging, the Holidays and Selling a Home
Last Minute Holiday Home Staging Tips and Advice
The holidays can be personal on a lot of levels, but you have to make sure your home's decor is neutral no matter what time of year it is. You should be romancing prospective homebuyers, not inviting them to your holiday party. A home that is cluttered with too much holiday cheer could be the difference between selling your home quickly or not.
I don't know about you, but there are homes I have been in that make me feel comfortable and ones that do not. Whether is was the location, style, colors or the homes decor, feeling at home is extremely important to all prospective home buyers. Feeling at home is more then the eye can see, it is also something you feel when you walk in.
Selling a home is good to do no matter what time of year. So, holidays or not… here is our best advice on how a home can be staged for the holidays and any time of year.
Learning to Play up your home's amenities for every season…
Home Staging Tips for Winter
Outdoor Lighting: next holiday season remember you must learn to step away from the inflatable snowman. What might be cute to you may be tacky to another, so tone it down and remember… LESS IS MORE.

Simplicity (winter tip: not just for the Holidays): a simple strings of white lights can accentuate your home's architecture. Use a narrow spot up the truck of your palm trees and you will so just how much attention you can draw in. Highlighting all the best features of the front of your home increases curb appeal and creates a welcoming ambience.

Lighting: landscape lighting should be used to highlight features of a home and to bring out the natural beauty of your home's surround landscape features.

Remove the Clutter
Make it Cozy: a few subtle touches like a tasteful bowl of pinecones to add a little bit of the winter feel to your home can add just the right touch.
Accentuate: use the right accessories to draw attention to the best features of your home's interior. Features such as a fireplace help people feel a sense of being cozy while showing off one of your home's features.
Scents: make a batch of cookies, or use a nice winter scent but make sure you do not overdo it!
Compliment Home Decor: adding décor that matches your home's décor is a good rule to follow.
And AGAIN, Clear the Clutter!
Tips for Maximizing your Selling Price Year-Round
Staging your Home
Looking to sell your Palm Springs home? Staging your home doesn't mean you have to go out and hire an expensive consultant. Home staging is common sense with creativity and includes seeing your home from the buyer's eyes. With this in mind, we offer you some insight.
Home Staging Tips Year-Round
50% Rule: Remove 50% of everything from counter tops, cupboards, and closets. Make sure things are neat, uncluttered so your home looks and feels spacious, efficient and organized.
Depersonalize: your prospective buyers must have the ability to visualize living in your home. By removing family photos and other personal items from your home you allow someone to foresee their life there. If you have an office make sure you keep your workspace free of paperwork, put your files away and out of sight.
Pack: Take the 50% of what you have removed and put it in boxes. You have to pack at some point anyways… this gives you a head start while also giving you the ability to unclutter and depersonalize your home.
Apply Aesthetics + Cosmetics: fix and repair anything and everything that is not working properly. If your walls are not neutral make them neutral! By investing in a new coat of paint and making some minor repairs your home looks new and appeals to the masses.
Keep Pets & Children with you: if you have kids or a pet or both, make sure you bring them with you during an open house. A nice calm home is a comfortable home and a comfortable home is a home people can foresee living in.
Accessorize: add a few decorative pillows, a nice throw to your sofa and chairs. Add colorful placemats and cloth napkins to your dining room table or the area where you dine. If you have patio furniture you might want to consider adding pillows and a table setting as well as long as it is not too cold outside (this helps someone visualize things they can do in your outdoor living space). Use mirrors in smaller rooms to make them look and feel larger. Be creative and use common sense, ask yourself what might make you want to buy a home. See your home from the buyer's eyes!
Palm Springs REALTORS
Whether you are looking to buy a home or sell a home, Town Real Estate can help! Our Palm Springs REALTORS will work hard for you and help you feel more at ease throughout your real estate transaction. We offer the most up-to-date Palm Springs Real Estate listings, which are available to you anytime. Our REALTORS are only a phone call away to help fulfill your needs or to answer any questions you have about the neighborhoods in the greater Palm Springs area.
Expert Real Estate Advice
Welcome to Town Real Estate, your resource for real estate advice and up-to-date real estate market information… Whether you are buying or a selling a home, selecting the right REALTOR is IMPORTANT! At Town Real Estate, we build lasting relationships with our clients by using our knowledge and experience to comfortably guide them through a fully informed process of buying or selling their home. Remember, your real estate agent works for you not the other way around! Contact us today and let us help you find the best solutions to your real estate needs.
About Town Real Estate
Town Real Estate is an boutique real estate firm specializing in Palm Springs area real estate, and neighboring resort communities in the Coachella Valley. At Town Real Estate, we seek to hire only the highest quality real estate agents in the industry. We look for a proven track record of success and a work ethic focused on caring for the client's needs. Give any of our experienced real estate agents a call or email us today to set an appointment.
At Town Real Estate, the soul of our philosophy is to make every client feel like they are important. We listen carefully to each client to ensure they feel listened to and heard. Our Mission is to grow one-to-one relationships with every client we meet. We always take the time our clients deserve to provide them with the right real estate solutions. We are real people who do business with both our minds and our hearts.
Our promise to you, to provide you with real estate solutions that fit your unique needs. Deliver a level of service that makes you feel important because the truth is, you are!
Looking for a Home in the Greater Palm Springs Area?

Contact us today to get started!