Home Organization 101
Tips for Getting Organized
A disorganized home can make you feel stressed out, anxious and overwhelmed. Often times the clutter can become so overwhelming, knowing where to start can be so daunting you may never begin. Use our home organization 101 article to get you on the right track. Whether the disorganization of your home is habitual, situational or simply historical that does not matter. The decluttering journey does not have to be as overwhelming as some make it out to be.
Home organization can help you simplify and unclutter your life. With less stuff around, you will ultimately find that a weight has been lifted! Remember; a place for everything and everything in its place! This is where home organization begins and ends.
An organized home is a comfortable home and a comfortable home is a happy home!

So kick off the New Year right with our simple and easy to follow tips, on how you can make your home an organized home…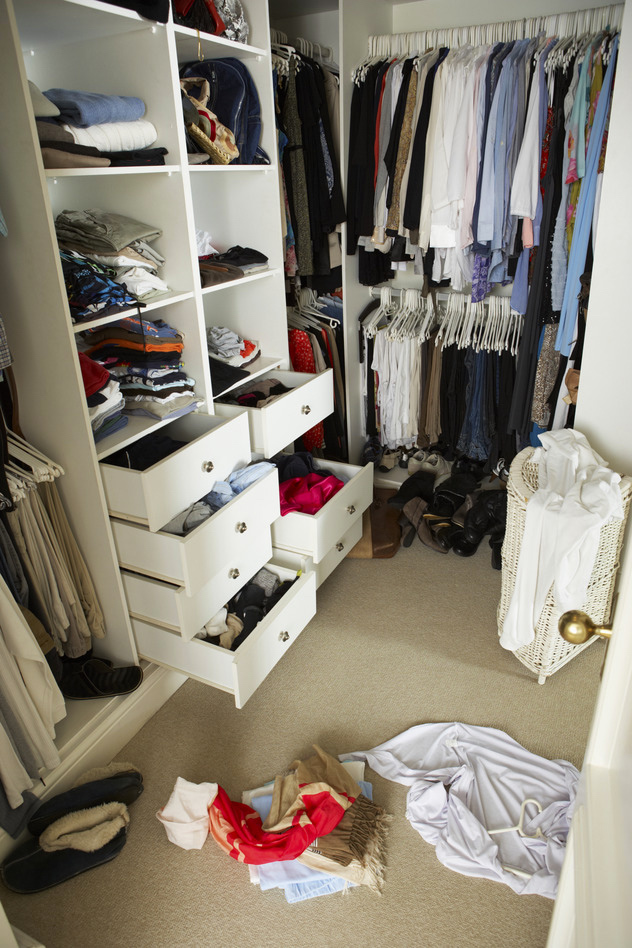 Decluttering
A home becomes disorganized when there is too much clutter. A talented craftsman, designer and poet William Morris once said, "Have nothing in your house that you do not know to be useful, or believe to be beautiful." Simply put, if it is not useful or beautiful then it is clutter.
To fully understand how to declutter your home you must first understand what clutter is. Clutter is anything and everything that does not have its own place… or put simply, it is ANYTHING that is disorganized. Clutter is anything that you do not need, too much stuff in a small place and can take many forms including too many clothes in one drawer, too many items on a desktop, too much stuff on a counter top, too much furniture and so on.
How Clutter Piles Up
Clutter collects when things are not put away. Files or paperwork that have not been filed in your filing cabinet, shoes left at the front door or in the hallway, unopened/opened mail sitting on your counter top or kitchen table, clothes sitting out on a couch and so on. Anything in your home that is disorganized or untidy is clutter.
So the question is, how does one declutter their home?
Tips for Getting Organized
Whether your home has begun to look like a storage room or is simply disorganized, now is the perfect time to purge, declutter and refresh your home. Home organization begins and ends with a place for everything and everything it its place. With this in mind we offer you some tips on how to get organized:
Prioritize
Make a List: (Slow and Steady Progress) make a list of every room that needs work

Follow a list
Make your list in order of priority
When as you complete a room, check it off the list

Make a Plan & Set Aside Time: Make a plan and stick to it

Set Time Aside: (Schedule Decluttering Sessions)
Decluttering your home will take time
Set a schedule
Whether it is one hour each day or even every other weekend until you are done
By sticking to your plan you will make progress
Staying Motivated: By committing time to the process you strengthen motivation by working towards a goal
Action will always result in an outcome
Be Realistic
Start in ONE Area: choose an area or room

One Area/Room: start in one room or even in one area of the room

Be realistic with your time and
It may take a few hours depending on how big your decluttering project is

Grab a few storage boxes
A giveaway box
A box of items you want to sell
A box for items that belong in another room of your home
And a trash bag
Remember; if it is broken, obsolete or redundant get rid of it
Cluttered Areas
Common Areas: Here is a list of areas that are known for being the most cluttered areas and tips on what you can do

Counter Tops: remove everything you do not use

Sort through items that will stay in the room and find a place for them

Kitchen Tables: It goes without saying; a kitchen table is an area where you eat

Remove anything other then a few table settings for aesthetics

Shelves: Get rid of things you do not want like old books gathering dust

If you don't use, remove it

Drawers: Junk drawers, really? WHY?

If you truly want to declutter your home there should be no such thing as a junk drawer
Drawers no matter where they are should match the room they are in
As an example, a bathroom a drawer might consist of essentials like a toothbrush, dental floss, and tooth paste
Closets
If you have any closets filled with items you never use
Remove anything you do not use

Gather all the clothes, shoes and accessories you never wear and donate them
Look for places that will pick your items up
Get a receipt and use as a write off for charitable donations
If you have a few closets make them have a focus
As an example, it is is summer there is no need for a winter closet
If you love shoes like some do
Investing in a closet organizer
This will reduce clutter in any closet
Cabinets
Remove old items
Items older than 3 months
Remove old towels
Dishes
Pots or pans
And donate them
Old food well is a no brainer
Check the dates of everything
Then organize and group items together
Do Not Stop
Until everything in your home has a place
When you are done using something, put it back
An organized home is a comfortable home and a comfortable is a happy healthy home…