Sunmor Estates
Sunmor Estates is a Palm Springs neighborhood that welcomes you to step back in time. Comprised of a remarkably intact collection of Modernist homes constructed in the late '50s and early '60s, Sunmor Estates is truly one of a kind. With a unique showcase of homes constructed by four iconic modern-era builders including, Alexander Construction Company, Robert Higgins, Jack Meiselman, and a few by Smith & Rapport. Sunmor Estates is rich with postwar history. In fact, you can still see evidence of the neighborhood's aviation history embedded in the ground. The circular concrete pads where military planes tied down were allowed to remain visible, adding character to the streets. From Midcentury Modern to today, Sunmor Estates is a popular Alexander neighborhood.
From Midcentury To Today…

Step back in time to a remarkably intact collection of Modernist homes constructed in the late '50s and early '60s…
Modernist Tract Homes
An undisputed mecca of midcentury modern architecture and design, Sunmor Estates has a very unique history. Often colloquially referred to as the Alexander neighborhood, the Sunmor Estates neighborhood was formed by combining two original tracts. Interestingly, it was Robert Higgins who originally imagined a neighborhood of affordable Modernist tract homes in this neighborhood. But it was the Alexander Construction Company who saw the idea through. With designs from Jack Meiselman, William Krisel, and others, the Modernist Style post-and-beam homes featured multiple roof designs. From flat to shed and butterfly to low-pitch gable. The Sunmor Estates evokes a strong sense of time and place. So strong in fact, the carefree spirit of the desert life blends so well with the unique sense of place. You may find yourself feeling transported into a whole new era!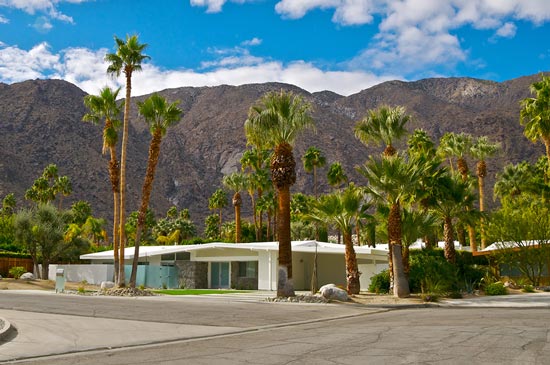 Sunmor Neighborhood
Over the years a number of minor Hollywood celebrities have called the Sunmor neighborhood home. However, the neighborhood's most famous resident was most certainly the outspoken "cowboy mayor" Frank Bogert (1910-2009). Development in the City of Palm Springs during the postwar era, reflects an important period of growth in the city of Palm Springs. Not only for its growth, but also for its association with the Alexander Construction Company. Because of the Alexanders, Palm Springs has not only grown, it has grown in a much more balanced and solid way.
Sunmor Neighborhood Lifestyle
Discreet communities are the little jewels within the necklace of Coachella Valley cities. Residents in this enchanting community enjoy quarterly wine and cheese meetings at rotating homes. Not only does this area have a great sense of community, it also holds a sold out Modernism Week event each year. The Sunmor Estates Midcentury Home Tours, feature several home interiors and landscapes throughout the neighborhood. The community is all about preserving a special and unique sense of place.