Best Palm Springs Neighborhoods Tahquitz River Estates
Palm Springs captivated an impressive list of talented architects with its enchanting allure and beautiful terrain. From Lloyd Wright and Albert Frey to other modernists such as William F. Cody, Donald Wexler, and E. Stewart they used their architecture to celebrate the desert by opening up to it. Each architect with their own regional style created an architectural treasury of great consequence and innovation throughout the Coachella Valley. As a result, it forever changed the region's design aesthetic.
From the purest examples of International Style to the Jetson-esque commercial buildings called Googie, there is something contagious about this desert city. In fact, those who move here do so with intention. It was neither a place where they were born, nor work that brought them here. Rather, Palm Springs was a city they discovered on their own. Whether it was to shed the trappings of the big city life, or to live a more casual, carefree way of life. Everyone who moves to Palm Springs, does so by making a conscious choice to move here for reasons more personal than professional.
Palm Springs is beyond cool, it's beautiful and important. For anyone who is contemplating a change in their life, and looking for a new place to call home. Now is the time to discover what Palm Springs neighborhood is right for you. Because, a neighborhood plays a vital part in the identity of its residents. With this in mind, we offer a deeper look into one of the Best Palm Springs Neighborhoods Tahquitz River Estates.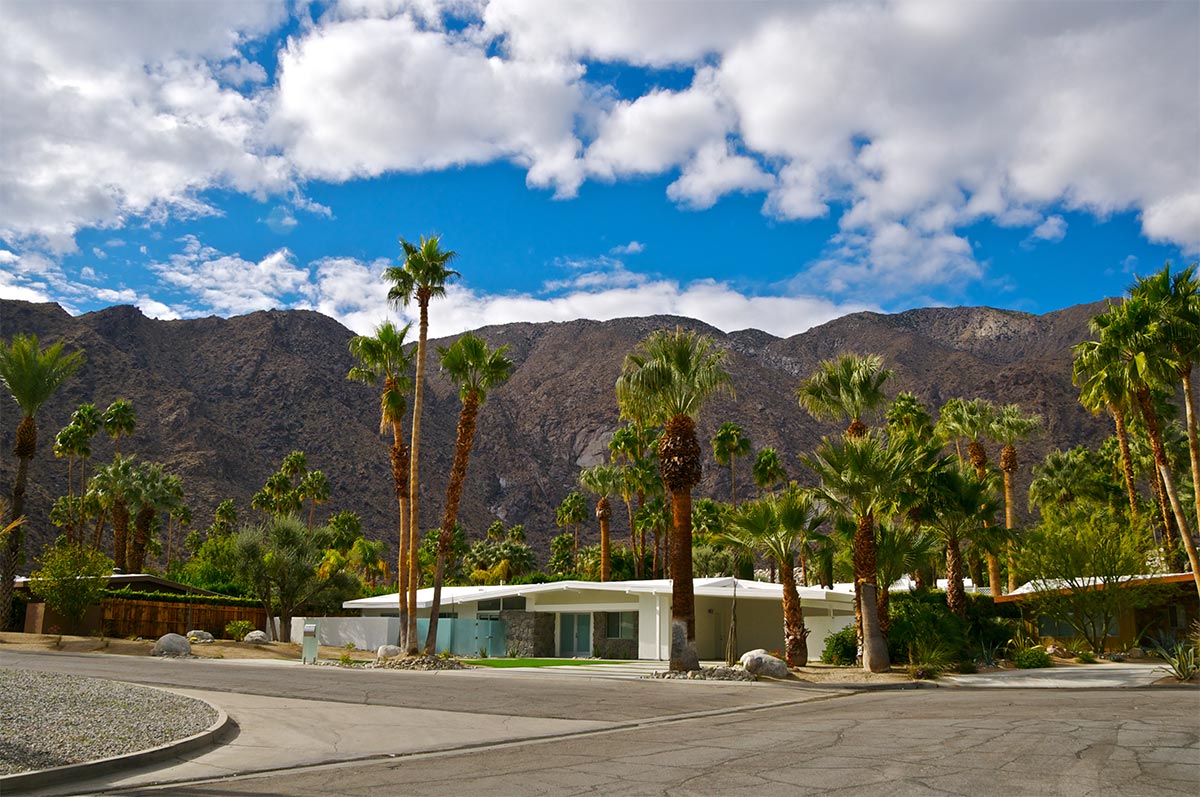 Tahquitz River Estates History
The first development in this neighborhood was called the Palos Verdes Estates. Bordered by South Palm Canyon Drive this subdivision of approximately 350 large lots is still populated with charming "Old Palm Springs" Spanish revival houses. In the 1930's building small Spanish Revival homes was fashionable. But, in an era of constant changes, what was fashionable was quickly replaced. In 1947, more than 200 two and three bedroom homes were built in what was then called Tahquitz River Estates by Paul Trousdale. Paul Trousdale an American real estate developer was best known for developing the Trousdale Estates in Beverly Hills. Perched at the highest point of Beverly Hills, the Trousdale Estates development promised a life above it all. And in Palm Springs, Paul Trousdale offered year-round pleasure through resort living. But, first he had to find a way to redirect the water that flowed from Tahquitz Creek.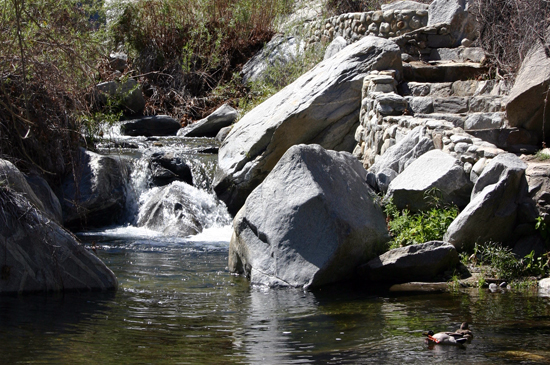 Tahquitz Creek
On Sept. 22, 1947, the earth movers arrived to carve a 200-foot ditch to redirect the flow of water out of Tahquitz Canyon. Boulders were also placed on each side of the large flood channel. As a result of their efforts, Paul Trousdale could finally begin to build. And he did so by peppering the neighborhood with Mid-century style homes. Thus creating an eclectic variety of homes that boast Old Palm Springs charm and modernism.
An idyllic place to…
Tahquitz River Estates was the most ambitious housing development that had ever been attempted in the city of Palm Springs. Today, the creek's adjacent footpath is an idyllic place to run, bike, walk, watch wildlife and mingle with others in the neighborhood.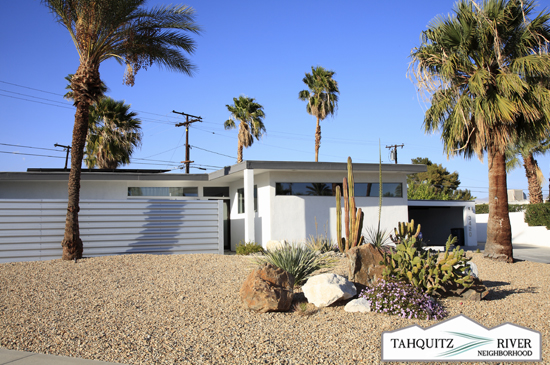 Tahquitz River Estates
On either side of the banks of Tahquitz wash, just south of central Palm Springs, lies a neighborhood which uniquely represents the past, the present and the future of Palm Springs. More than just a showcase of homes, Tahquitz River Estates is one of the largest neighborhoods in Palm Springs.
A museum of architecture…
With 1,100 homes and a museum of architecture spanning close to 90 years, this neighborhood has a rich architectural mix. With homes ranging in size from cozy bungalows to impressive properties featuring upwards of 3,000 square feet. This is one of many eclectic Palm Springs neighborhoods. Ready to discover one of the Best Palm Springs Neighborhoods Tahquitz River Estates, continue your journey here.