Escena Palm Springs
When The Desert Calls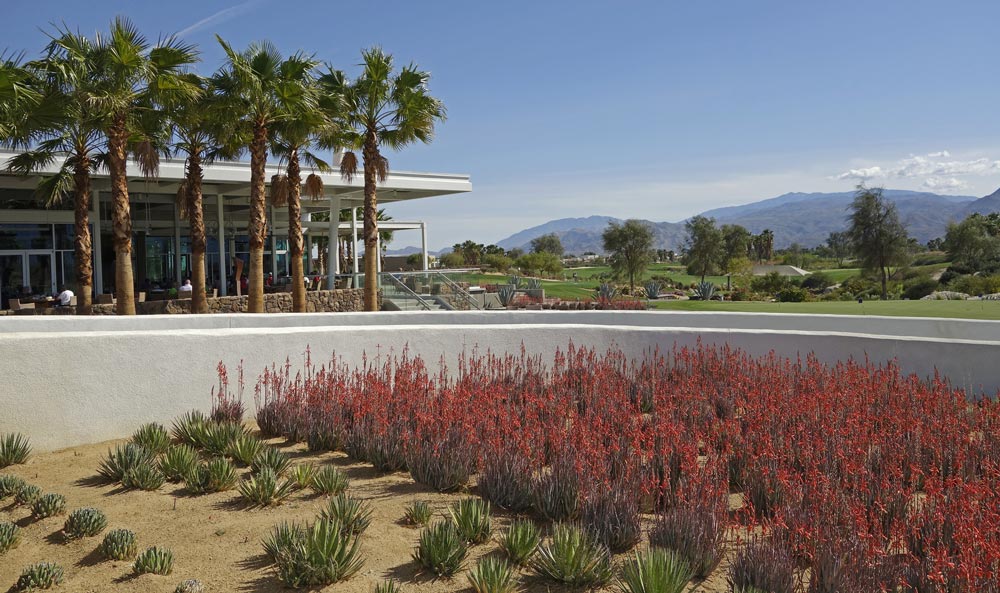 Escena Palm Springs, is an idyllic place for those looking to trade chill and fog for palm trees and bright stars in an open sky. From floating in the pool to looking at the stars through Palm Trees, Escena is an ideal blend of scenery, style, location, and accessibility. This Palm Springs neighborhood features Mid-century inspired modern architecture in a golf course setting with mountain views. The San Jacinto Mountains tower above the Escena Palm Springs community only feet away from the beautifully colored quilt of modern homes. True modern architectural style homes are built with, flat roofs, open floor plans and a maximum connection to the outdoors. Smart and efficient the post-recession sensibility of an Escena Palm Springs home is simple but cool.
Inside the gates of Escena Palm Springs, you will enjoy architectural uniqueness, golf and dining, and stunning views of the San Jacinto Mountains. Escena which stands for scene, stage, and setting is exactly what residents get in this modern affordable Palm Springs neighborhood. With a close proximity to Downtown Palm Springs, you can explore all the wonders this desert oasis offers. Prepare for a surprise at Escena Palm Springs, with blue desert skies and stars that fill the sky, palm trees, landscaping and dramatic waterscapes Escena Palm Springs offers a sensory feast.
The Centerpieces of the 450 Acre Community
DINE: Escena Palm Springs – Lounge & Grill
The Escena Lounge & Grill was voted the 2010 top new restaurant by Palm Springs Life Magazine. Here you can find California fusion cuisine and a retro vibe. With eye-popping design and incomparable views, Escena Lounge & Grill is open year-round to the public. Enjoy breakfast, lunch, dinner and Sunday Brunch along with happy hour and seasonal live entertainment. They also offer a dog friendly patio that boasts one of the most remarkable outdoor dining vistas in Palm Springs.
PLAY: Escena Palm Springs – Golf Course & Golf Club
Ranked as the #6 public courses in California by PGATOUR.com, this golf course blends championship golf with a classic Palm Springs setting. As you wind your way through this stunning oasis you will find back tees stretching to nearly 7,200 yards, stunning views, and generous driving corridors. The Nicklaus Design course offers all of the ingredients of a modern classic. Nicklaus Design is recognized around the globe as the world's premier golf course design firm.
EXPLORE: Escena Palm Springs – Bark Park
Bark Park a dog-friendly, gated park that features a hydration station, a bag dispenser and ample room to run around on four legs.
Looking to Escape the Chill and Fog for Palm Trees and Bright Stars?
When The Desert Calls
Palm Springs, CA lures many people with its aura of luxury, cultivated by vacationing celebrities. Palm Springs is an idyllic place for those looking to trade the chill and fog for palm trees and bright stars in an open air sky. Whether you are from Seattle, San Francisco, Portland, or New York, having colder than normal climates might make this desert oasis an option as you plan your retirement. Warmer weather, a more relaxed lifestyle, in a gay-friendly environment, are only a few things Palm Springs has to offer. And, while the warm weather is one of the most inviting attributes of Palm Springs, CA, another reason to move is the lower cost of living. Something many retirees look for in a new city!
The Desert is Great for Simplifying your Life…
Pre-Buying A Home for Retirement
One reason for to move to Palm Springs is the lower cost of housing. The lower cost of housing presents a huge opportunity for those living in hot market areas. If you are living in Seattle or San Francisco you are most likely sitting on a goldmine. As a result, selling your home could mean a lot of extra cash. And, for those who are close to retirement, buying today while real estate is affordable is a win, win. You can pre-buy your retirement home, rent it out as a vacation home, and when you are ready move in full time.
Time To Cash Out and Move to Palm Springs…
Cost of Living Comparison: Seattle – Palm Springs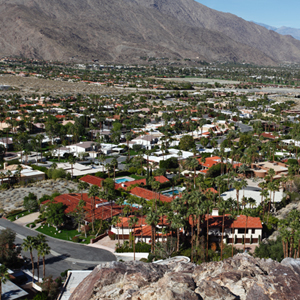 Seattle is more expensive than Palm Springs by 29%, and housing is the biggest factor in the cost of living difference. Housing is 45% more expensive in Seattle.
Cost of Living Comparison: San Francisco – Palm Springs
San Francisco is 117% more expensive than Palm Springs, and housing is the biggest factor in the cost of living difference. Housing is 253% more expensive in San Francisco.
Cost of Living Comparison: Portland – Palm Springs
Portland is 11% more expensive than Palm Springs, and housing is the biggest factor in the cost of living difference. Housing is 16% more expensive in Portland.
Cost of Living Comparison: New York – Palm Springs
Palm Springs is 30.2% less expensive than New York. Palm Springs housing costs are 45.3% less than New York housing costs. Health related expenses are 8.7% less in Palm Springs, California.
Palm Springs, CA Always Something To Do
From mouth-watering food festivals to Gay Pride Weekend, the calendar is always bursting with exciting events in Palm Springs California. Find your inspiration with this sneak peak of can't miss events in Greater Palm Springs California.
HWY 62 Open Studio Art Tours
The Hwy 62 Open Studio Art Tours, now in its 16th year, is a one-of-a-kind experience for art lovers and art buyers. Create a customized self-guided tour of the 80 plus open studios in the Morongo Basin and to speak directly with the artists about their work and creative endeavors in the intimacy of their private work spaces. The Hwy 62 Open Studio Art Tour features over 140 artists. See two- and three-dimensional media that explores everything from traditional and representational techniques to contemporary and abstract styles.
WHEN: Oct 14 – Oct 15 and Oct 21 – Oct 22 from 9:00 am – 5:00 pm
WHERE: Throughout the Joshua Tree Gateway Communities Joshua Tree, CA 92252
PRICE: FREE
Modernism Week Fall Preview 2017
Fall Preview 2017 will feature a selection of the most popular events from the February festival. Such as, the Palm Springs Modernism Show & Sale, architectural walking and bike tours, festive cocktail parties, home tours, and stimulating lectures.
WHEN: Oct 19 – Oct 22 all day
WHERE: CAMP 350 S Palm Canyon Drive, Palm Springs, CA 92262
PRICE: Cost varies per event
Halloween Palm Springs Carnavale on Arenas Road is not your typical graveyard gathering, but a street fest of the very best kind. This Halloween extravaganza invites guests to have a blast and feel fabulous about giving back to the community in support of Desert AIDS Project, Palm Springs Gay Men's Chorus, LGBT Community Center of the Desert, and Greater Palm Springs Pride. One of the most prolific dance artists of our time and Billboard® Dance Chart Topper Robin S known for her mega hits "Show Me Love" and "Luv 4 Luv" will headline Halloween Palm Springs on Arenas Road Tuesday, October 31 from 5:00-10:00p.m.
WHEN: Tuesday, October 31 from 5-10pm
WHERE: Arenas Road for directions click here for the Google Map
PRICE: FREE with a suggested donation of $5.oo for more information go
Greater Palm Springs Pride Weekend
The Greater Palm Springs Pride is a week of Rainbow flags and glitter that will fill the streets. One of the most scenic pride parade and festivals in the world. The two-day festival is FREE and open to everyone.
WHEN: Nov 3 – Nov 5 all day
WHERE: Various location in Greater Palm Springs Palm Springs, CA